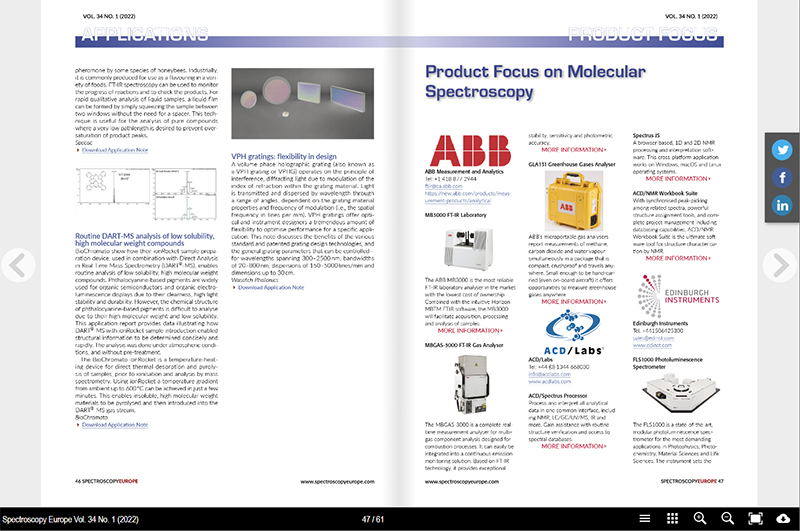 Each purely digital issue contains a Product Focus section that highlights products in a different technique area each issue, e.g. molecular spectroscopy. Entry is free to companies in the ­2023 Directory for up to three products; others pay £55 / €65 / $80 per product listed. All entries can be enhanced with the paid options of ­company logo and product image—these are free to companies with a Platinum Directory Packages.
As the name implies, each Product Focus has a focus on a particular area of spectroscopy products. Only products in that area can be accepted for that issue's Product Focus. Over the year, we should cover most areas, but do contact Ian Michael if we are not covering your area.
Please use the online form to add your products for the next issue's Product Focus.
Product Focus Schedule 2023
| | | | |
| --- | --- | --- | --- |
|   | Copy Date | Send Date | Product Focus |
| Jan/Feb (Issue 1) | 2 Feb | 7 Feb | Molecular Spectroscopy |
| Mar/Apr (Issue 2) | 23 Mar | 28 Mar | Imaging Spectroscopy |
| May/Jun (Issue 3) | 11 May | 16 May | Mass Spectrometry |
| Jul/Aug (Issue 4) | 6 Jul | 11 Jul | Atomic Spectroscopy |
| Sep/Oct (Issue 5) | 31 Aug | 5 Sep | Luminescence |
| Nov/Dec (Issue 6) | 2 Nov | 7 Nov | Mobile/Handheld |