Rhiannon E. Boseley,a Daryl L. Howard,b Jitraporn Vongsvivut,b Mark J. Hackett*,a and Simon W. Lewis*,a
aSchool of Molecular and Life Sciences, Curtin University, GPO Box U1987, Perth, Australia
bANSTO, Australian Synchrotron, 800 Blackburn Road, Clayton, Victoria, Australia
DOI: https://doi.org/10.1255/sew.2022.a8
© 2022 The Authors
Published under a Creative Commons BY-NC licence
In forensic science, fingerprints are used to connect an individual to a criminal investigation. Their evidential value is reliant on the successful recovery of a fingerprint from a crime scene. Despite a multitude of chemical and physical methods capable of detecting fingerprint residues, there are substantial challenges with fingerprint recovery due to the inherent variability of this biological material. Ongoing research has focused on the development of new or improvement of current fingerprint recovery techniques. Meanwhile, conducting fundamental studies can be valuable to explore the residue itself, to better understand its variation in response to fingerprint treatments.
Spectroscopic methods have played a critical role in the analysis of fingerprints, used to identify the chemical constituents present, examine their degradation over time and compare the chemical variation between donors. Whilst bulk chemical methods have provided an extensive view of the chemical species present, the heterogeneous nature of fingerprint residues means that a more accurate picture can be obtained when the spatial information is preserved. Chemical imaging methods such as mass spectral imaging and infrared micro-spectroscopy can capture the most comprehensive view of fingerprint chemistry.
Recent scientific advances have made spatially resolved chemical analyses more accessible. Among these powerful methods that can provide an unprecedented view of fingerprint chemistry, only a small number of techniques can analyse natural fingerprint samples without any chemical alteration, treatments or solvent extractions prior to analysis. To capture the most realistic representation of the chemical species naturally present in fingerprint residues, in situ, label-free measurements are required. Further, when analysing biological materials, the capability to analyse samples in situ, at ambient temperature and pressure, without the need for vacuum conditions, is important for the stability of loosely bound elemental content and the morphology of the sample.
Fourier transform infrared spectroscopy
Fourier transform infrared (FT-IR) spectroscopy has long been used to characterise unknown samples based on the absorption of IR light by characteristic functional groups of organic molecules. The integration of FT-IR spectroscopy with microscopy (known as FT-IR micro-spectroscopy) further enables classes of biological molecules to be mapped across sample surfaces. Unfortunately, the long wavelengths of IR light (relative to visible light) result in poorer spatial resolution associated with FT-IR micro-spectroscopy than what is generally expected from conventional light microscopy. Nevertheless, the use of high refractive index optical materials in combination with attenuated total reflectance (ATR) modalities, now enable FT-IR micro-spectroscopy to approach micron-scale spatial resolution.1–5
FT-IR micro-spectroscopy has been used not only to investigate how the variation in molecular chemistry can be indicative of donor traits, such as age and biological gender, but also to estimate time since fingerprint deposition.4,6–8 The identification of components correlating to glandular secretions from the eccrine and sebaceous glands has been characterised and their persistence monitored with variables including temperature and time.5 Commonly, fingerprint samples have been analysed with the addition of microscopy (either mapping or imaging), to retain spatial information, highlighting the inherent heterogeneous distribution of organic materials across a sample. In particular, coupling a synchrotron light source to a FT-IR imaging instrument provides enhanced spectral quality and improved data collection times. Dorakumbura et al. exploited the capabilities of synchrotron FT-IR imaging coupled with the ATR attachment to characterise eccrine and sebaceous material within individual droplets in fingerprint residue.9 This method was subsequently applied to monitor the spatio–temporal changes in fingerprint droplets under ambient temperature conditions. Changes in the morphology and chemical composition of the droplet are shown in the immediate hours following deposition (Figure 1), providing a unique perspective of the dynamic nature of this material.10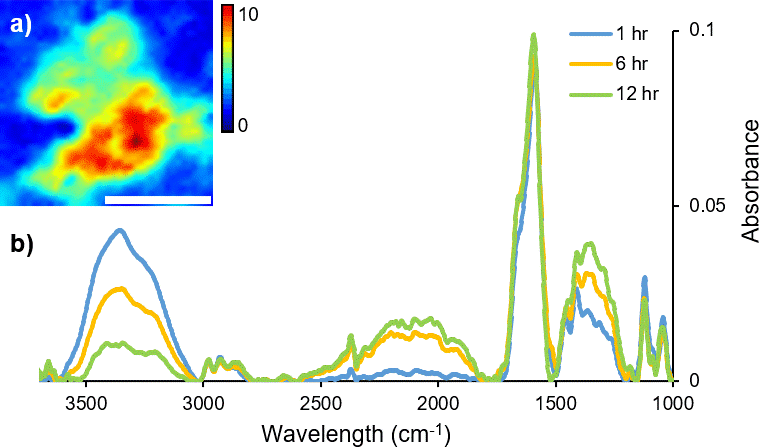 X-ray fluorescence microscopy
Research into the inorganic material in latent fingerprints has been limited due to the lack of availability in instrumentation with the appropriate sensitivity and spatial resolution required to detect the trace metals present in fingerprint residues. The process of X-ray fluorescence (XRF) inherently lends itself to simultaneous multi-element mapping, which is of great value across many research applications. Coupling of XRF instrumentation with bright X-ray sources (e.g. synchrotron light sources) now provides the opportunity for rapid acquisition of trace-element maps, at micron spatial resolution.11 Recent work conducted by our group has taken advantage of the brightness of synchrotron-sourced X-rays, using X-ray fluorescence microscopy (XFM) to image the distribution of metals and metal ions in natural fingerprints.12 Like its organic counterpart, inorganic material is donor dependent, with great variation in the amount and distribution of elemental material present. The elemental material appeared to follow the ridge pattern detail of fingerprint residue, implying it could be an appropriate chemical target for novel fingerprint development methods. Interestingly, donor behaviour, specifically cosmetic use and contact with metal objects can influence the chemistry of inorganic material in fingerprint residues.13 This information can be exploited for forensic purposes, with metal profiles characterised to particular criminal activities.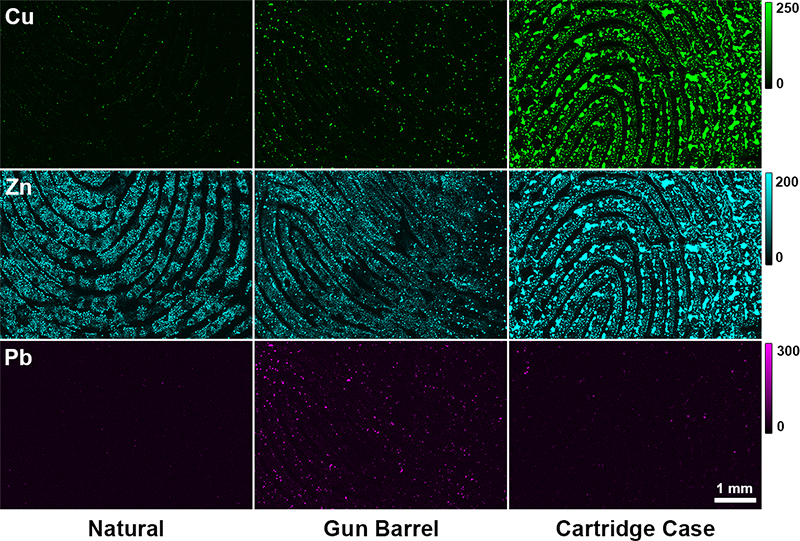 Multi-modal chemical imaging studies
To gain a more holistic view of fingerprint chemistry, a multi-modal workflow combining chemical imaging methods was used to investigate the interactions between organic and inorganic materials.12 The same fingerprint sample was imaged using infrared micro-spectroscopy (IRM) and XFM, which together allowed the co-location of metals and metal ions within the organic secretions. Figure 3 shows an example of the metal ions, specifically zinc, located within the organic secretions. A broader distribution of exogenous metal ions was more likely to be linked with external sources such as cosmetic use or secondary metal transfer.12 This finding is critical to understanding how metal ions can interact with chemical treatments, some of which interact with the organic materials, particularly amino acids present within eccrine sweat.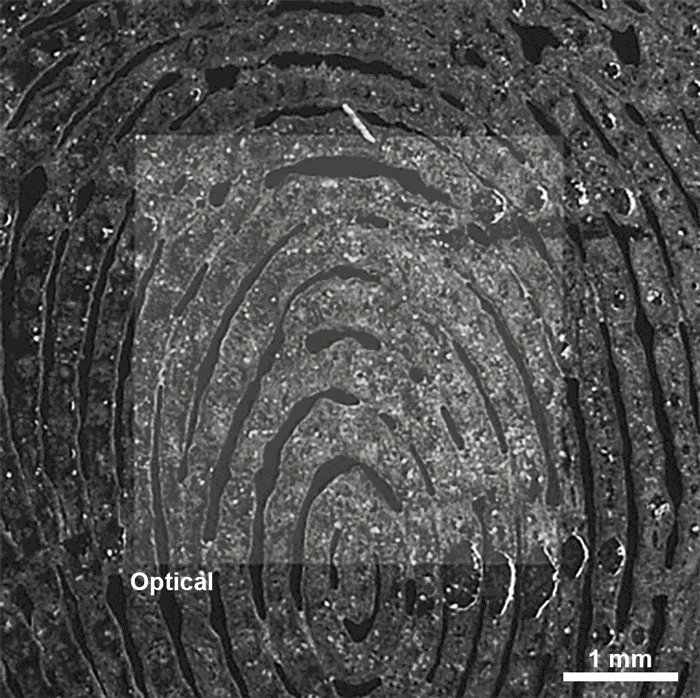 References