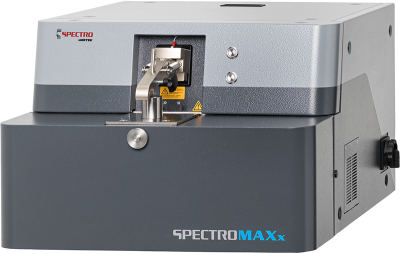 SPECTRO Analytical Instruments has introduced the SPECTROMAXx LMX10 arc/spark OES analyser for elemental analysis in metal producing and fabricating plants, and iron and non-ferrous foundries. The LMX10 is the newest version of the SPECTROMAXx series. Advanced diagnostics and easy maintenance prevent downtime. In addition, the analyser features SPECTRO's proprietary iCAL 2.0 calibration logic, which requires only five minutes and a single sample per day—and automatically compensates for most changes in environmental temperature or pressure.
The LMX10 has new advancements, including completely new factory calibrations; extended calibration ranges and element selections; optimised source excitation parameters; and improved limits of detection (LODs). It also introduces a new feature that allows for a total shutdown of argon flow during standby for periods configurable by the operator. The LMX10 provides routine, trouble-free analysis of 10 matrices, 65 methods and 59 elements via convenient controls for operation; easy access for use and maintenance; and enhanced software features such as quick-check programs, virtual type standards and spectrum scans.
The new SPECTROMAXx LMX10 is available in two models. The basic SPECTROMAXx features a single air optic, with state-of-the-art CMOS sensors proven in the flagship SPECTROLAB S. It extends the relevant and applicable elemental wavelength range from 233 nm to 670 nm. In addition, a new option analyses relevant wavelengths to 766 nm, covering potassium (K). The SPECTROMAXx Advanced utilises the same high-resolution CMOS technology, with the air optic covering the same wavelengths as the basic model. But an added UV optic handles a lower spectral range, from 120 nm to 235 nm. This includes a new capability to analyse oxygen (O) in copper (Cu). In addition, a new option analyses relevant wavelengths to 766 nm.